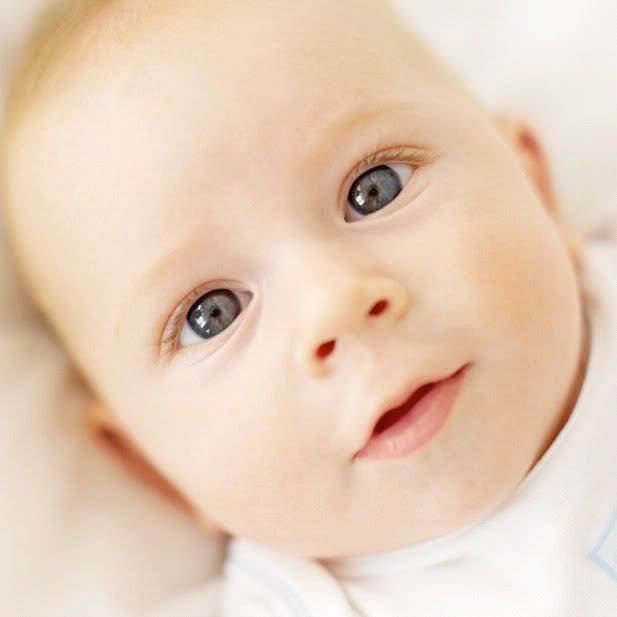 On a completely different note, there are a bajillion pregnant women working here at the mortgage company. A bajillion. Some of them, like Sarah, are the most lovely and darling women I've ever met. Some are just pod-people, as far as I know.
Like every other unpregnant woman, I just adore hearing about another woman's eating, sleeping, barfing and birthing issues...like any other woman, I love to listen to any topics that allow me to live out motherhood vicariously through the wombs of others. Of course I do, who wouldn't.
But I draw the line at bringing babies into the workplace after the blessed event we've all heard about for nine months has finally occurred.
I'm saying this because only a few feet away, there's a crowd of women surrounding a pastel clothed little infant, passing it from woman to woman like some pagan baby ritual, each woman touching its peachy cheeks and soft little hands and feet while it shrieks in irritation. Poor little soldier, imprisoned in a tiny Michelin suit... unable to free itself from the overwhelming pride and joy of its mother.
I have been instructed to mention that Rebecca Lee did not participate in this event. Noted.
But my real reason for telling you all this is that I think that the next wave in office politics and political correctness is going to be
pediaxual harassment
. As in, the sight of your babies in my zone is going to possibly injure your position at the firm. As in...if an unpregnant woman overhears you talking about cribs or room colors or feeding patterns...you could forseeably a call from HR.
It's incredible to imagine, I know.